Hello again! This will be a bit of a long one since we have quite a lot to announce.
Special Guests
We have another round of guests to announce. Numinous Games are the developers of
Area Man Lives
, published by Cyan Ventures and released this spring. We also have several members of the ongoing development team for
Uru
/MOULa and an additional member of the Myst Documentary team.
ametist

first started building ages for MOULa in 2008

Elana Bell Bogdan

created the soon-to-be-revealed "Vault of Stories" for the Myst Documentary

Colin "Maccodemonkey" Cornaby

is currently focused on bringing

Uru

to the Mac

Patrick "Doobes" Dulebohn

has been creating content for

Uru

since 2007

Amy Noel Green

has created games with Numinous including

That Dragon, Cancer

and

Area Man Lives

Ryan Green

is the Creative Director and Head of Narrative for Numinous Games

Harley "Calum Traveler"

is a writer, artist, and tester for MOULa

Adam "Hoikas" Johnson

is a developer on the open-source

Uru

client

Keith "Tweek" Lord

works on Age development and helps support other developers in MOULa

Mike Perrotto

is a software developer and producer for Numinous Games

Darryl "Paradox" Pogue

is a software developer for

Uru

Paul "rarified" Richards

is a fan content coordinator for MOULa
Again, full bios can be found on our
Special Guests page
, and we're still not quite done announcing guests.
Schedule
Here's the big announcement: the schedule for Mysterium 2022 is now live on the website! Check it out on our
Schedule page
. We are still finalizing one or two events so it will likely change in the next few weeks, but most of it is ready to go.
June Community Prompt
Once again we received some great submissions, this time for the topic of "Resilience", and our winner is
Harley "Calum Traveler"
for the Narayani word "resilience" in pride flags.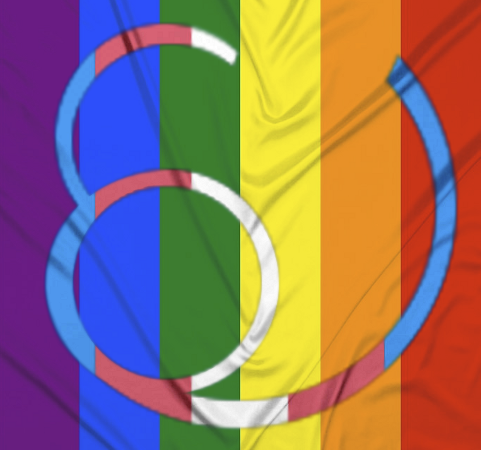 Social Buttons
Do you like warm hugs? Not quite into all the unknown people around you? Or maybe people should just ask what would be the next right thing for you? We're providing social buttons this year to let everyone know your comfort level! They'll be available all weekend in the con room.
Yes button – I'm comfortable with conversations, come on up and talk to me!
Ask button – I'm unsure about my comfort level. Please ask before approaching me.
No button – I'm not comfortable with conversations. Please give me space.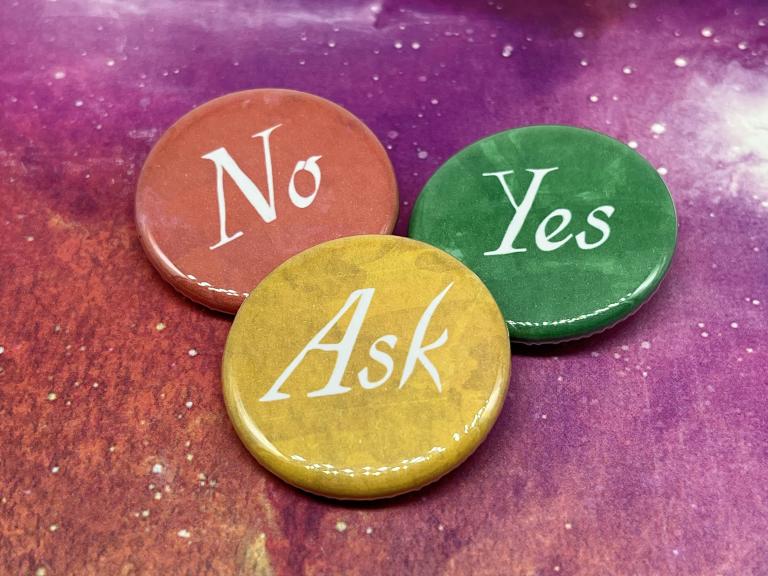 Feel free to swap out buttons whenever you feel you need to! We also ask that you please be respectful in regards to these social buttons. Don't harass other people for wearing them. Be a kind human.
Writing & Artwork Table Submissions
Just a quick reminder that submissions for the writing & artwork table are open through
July 31
. Check out our
Submissions page
for details.
Registration
Registration is still open through
August 1
. After that date,
online registration
will close. We will sell admission at the door starting Friday morning, but the early badge pickup on Thursday will only be available to those who purchased their badge online.
Hotel Booking Deadline
If you plan to stay at the official Mysterium hotel this year, the Holiday Inn Denver East, you only have a few days left to book a room at the Mysterium rate. After
July 19
there will be no guarantee of availability as any remaining rooms in the block may be released to the public. See our
Location page
for more information.
OK if you made it through that whole thing, thank you for reading. We'll have more guests, as well as information on the hotel shuttle and parking, soon.