How we got started
In 2000, a group of Myst fans decided to organize a meet-up in Spokane, Washington, home of Cyan Worlds, Inc. What was initially planned as an informal gathering ultimately ballooned into a weekend-long event attended by over 200 people, with t-shirts, a catered lunch, and a tour of Cyan Worlds' headquarters.
Since then, Mysterium has traveled the country, visiting almost a dozen cities, and returning to Spokane periodically with Cyan Worlds as a gracious co-host. Now in its second decade, Mysterium has become a community tradition, and a sort of annual reunion. We welcome all fans of Myst, Obduction, and other Cyan games. Whether you played Myst once a long time ago, just recently found it on iOS, or are a years-long dedicated fan, we welcome you to attend, and hope to see you there!
On the sidebar of this page, you can find links to Mysterium FAQs and history.
What to expect at Mysterium
We often refer to Mysterium as a nerdy family gathering so we'd like to start off by welcoming you to the family!
Con Room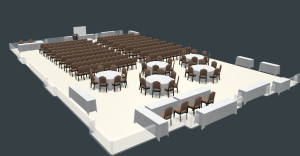 The majority of Mysterium takes place in a large ballroom of the hotel that we refer to as the Con room. This is where you'll check in at the registration desk for your badge and can stop by the swag table if you desire. There are usually sign-up sheets available for various events as well.
The Con room is full of theater-style seating where you'll be able to have a seat and watch the panels and presentations throughout the weekend. Depending on the year and room layout, there are usually a few round tables in the room as well that may also be used.
Please note that we stream the majority of the events of Mysterium, so there will be a camera in the Con room. It's usually just facing the podium at the front, but we ask that you be mindful of the placement while standing or walking around the space!
Swag Table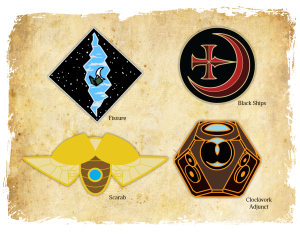 We often have some fantastic swag available for purchase at Mysterium. All items are designed by attendees and the committee and the designs are donated to Mysterium. Most common types of swag include enamel pins, lanyards, and t-shirts, although lately, that list is growing to include more items. The majority of swag items are available for pre-order, but we usually include a limited number of items on-site at the registration desk for purchase.
There are no vendor booths at Mysterium and we do not allow for items or services to be sold at Mysterium. Please feel free to check out the policies page for more information on the sales policy.
Spokane Years
Some years are held in Spokane, WA and therefore part of Mysterium will be held at Cyan HQ. Those years vary pretty wildly as far as schedule goes, but it usually involves a tour of Cyan HQ, a catered lunch, and some presentations from the Cyan staff.
Panels and Presentations
Every year we have a variety of fantastic panels and presentations put on by the committee, industry professionals, and attendees alike! Here is a panel with Cyan from 2022: Cyan SoTU 2022 if you'd like to see an example. For more videos, feel free to check out our Youtube channel!
Cosplay
Have a fun costume you'd like to dress up in? Please do!
Bonus points if it's Myst-related, but we know there's a wide range of acceptable looks that work for the Stranger. We just ask that you keep it family-friendly.
Unsure about how to interact with a cosplayer? That's ok! Our friendly neighborhood mangree put together a handy dandy guide that lays out some cosplay etiquette!
Marker Missions
If you've ever played URU and calibrated the KI with the Great Zero, you had to run around collecting markers. Similarly, we bring little marker tokens and hide them around the community spaces at the hotel for attendees to find! Markers are hidden in spaces that everyone has access to, so think Con room, hallways by the lobby, the hotel lobby, restrooms, etc. But not guest rooms or the hallways where the guest rooms are. We try not to be disruptive to the non-nerd hotel guests during the con. Anyway, during the weekend, attendees are encouraged to search those spaces for markers and turn them in to Mysterium staff for points!
Puzzles
One of the things that bring us together is how the Myst games give our brains a workout. So the committee will often put together puzzle packets to do just that! This is a voluntary event done in groups. If you would like to sign up for this year's puzzle missions, you may do so at the registration desk during Mysterium. Some years there are prizes for succeeding in solving the puzzles! Others they're just for fun.
Writing and Art Table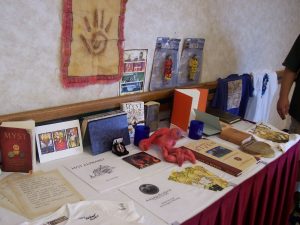 Also known as "The Table", we have tables around the Con room as display spaces for attendees and staff to bring Myst-related projects and show them off. If you have something to bring, we encourage you to do so! These items are for display only and will be returned to you at the end of the con.
Over the years we've had some fantastic projects submitted including a Red Robin menu that was fully in D'ni, a Mofang gun replica from Obduction, stained glass pieces from Uru, journey cloths, animal plushes, and more! We really do have some fantastically creative folks in the Myst family.
Excursions
Some years we will have official excursions available for attendees to sign up for. Oftentimes, attendees will organize groups for escape rooms on their own and are encouraged to do so! We have a looking-for-people channel in our discord server for exactly this purpose.
For the latest news on this year's schedule, events, and such, we recommend you keep an eye on the blog, Facebook, and Discord.