Happy March everyone!
We are excited to announce that registration and hotel reservations are now open! As is tradition, with registration also comes the announcement of this year's t-shirt design. We're so excited to share what the community created this year, so let's get right to it.
T-Shirts
In the front of this year's shirt, we have a depiction of the Jefferson Memorial superimposed on the Tomahna book vault. This eye-catching design was created by Katherine "Squee" White.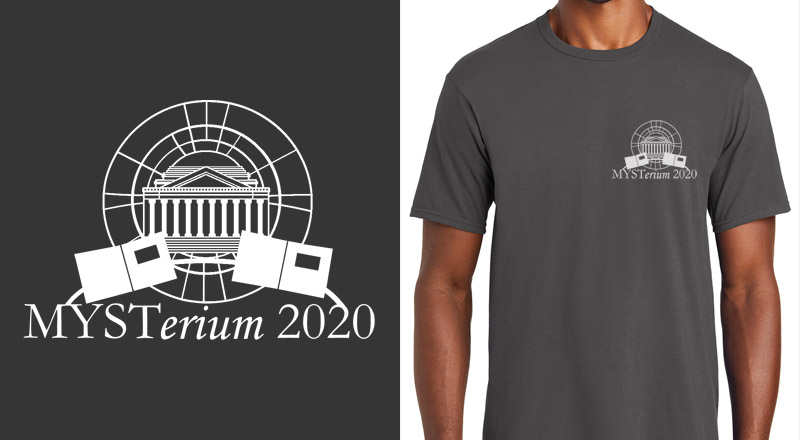 On the back, we have a stunning depiction of Spire and Haven designed by none other than Claire "Shoom'lah" Hummel.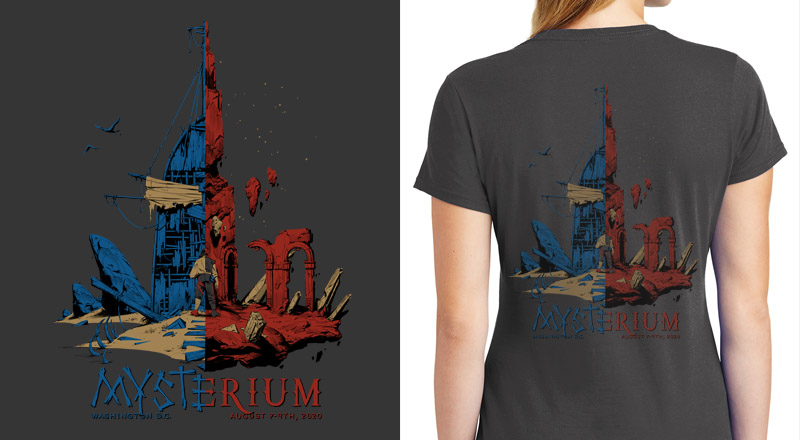 We're so excited to have both of these designs for our shirts this year. For more information, please see our T-Shirts page. We'd like to extend a huge thank you to everyone who submitted T-shirt artwork this year. Even if your design was not selected, we hope to feature your work elsewhere during Mysterium.
Hotel
This year, Mysterium will take place at the Westin Alexandria Old Town in Alexandria, VA. Located just a few minutes walk from Alexandria and King Street stations, this hotel offers easy access to downtown Alexandria and Washington, D.C. proper. We've secured a rate of $100/night for both single and double rooms.
For more information about our hotel, including links to make your reservation, visit our updated Location page.
Registration
Mysterium 2020 registration is now open! From now until May 31st, you can purchase a weekend registration for $25, or a premium registration (weekend + shirt) for $40. That's a $5 discount off of the individual items! Starting June 1st, the price will increase and shirts will not be available for pre-order.
We have once again included a space for you to indicate your pronouns on your badge, should you wish. Read more and register today over on our Registration page.
Reminders
As a reminder, we are still accepting submissions for events, enamel pins, activity book pages, as well as writing and artwork. The deadline for pin design submissions is right around the corner on March 15th, so be sure to send your ideas in. All information about submissions can be found on the Submissions page.
New Submission Rights Policy
With Cyan's help, we have written a new licensing/copyright policy for all submitted works (logos, pin designs, etc). Previously, all works submitted to Mysterium became the property of Cyan Worlds Inc. Going forward you will retain copyright of your own work, but grant Cyan and FMG/Mysterium a perpetual license to it. For the complete details and legalese, see the Submissions section on our Policies page. This applies immediately to all future submissions, and retroactively to all pin design and activity book submissions for Mysterium 2020.
It's hard to believe that Mysterium is just around the corner! We'll have more updates for you all soon.
– Mysterium 2020 Triumvirate: Capella, Drew, and Dan