Shorah!
We have a few last things to cover before Mysterium, which brings us to our first point:
Mysterium is 2 weeks away!
Scream!! We can't wait to see everyone, and we're all hard at work getting last-minute details ironed out. The Committee has a few things to go over with everyone, and we're all looking forward to our weekend with you.
Registration Closes Tomorrow
Huge reminder to everyone that registration closes tomorrow, Friday, June 16th. While we will have a limited number of standby tickets available to sell at the Registration table, those will be on a first-come, first-served basis on Friday, June 30th only. Stand-By tickets include admission for the weekend, and Mysterium 2023 Lanyard (while supplies last), but DOES NOT include admission to Cyan. Anyone buying a Stand-by ticket (either online, or at the registration table) will have their name placed on a standby list for any last-minute spots that may open up for the Cyan trip on Saturday morning. However, please be aware this does not guarantee a ticket to Cyan.
Bus ticket Deadlines
Bus ticket online sales will end when Registration closes tomorrow, Friday, June 16th. We will be selling the tickets at Mysterium until 8:30am on Saturday July 1st, before leaving for Cyan at 9:00am.
Meet & Greet Details
There will be a few Cyan staff for folks to meet during the Meet & Greet portion of the Cyan visit on Saturday.
For meeting Rand, folks may choose to have either one selfie with Rand or one autograph with Rand. If you choose to have an autograph, it should be a simple autograph without personalization. This is to keep the lines moving and not overwhelm Rand. Please be respectful of Rand's time during the meet & greet and save your questions for the Q&A panel at 3:00 pm later in the day.
May Prompt Winner
Keith "Tweek" Lord  won the May Prompt! See the submission here: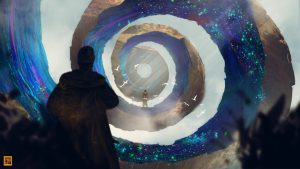 Con Room Rules
Some reminders for the Convention Space Room as we are quickly approaching convention time.
NO food inside the Convention hotel space
All drinks must be in covered containers
Masks must be worn in the con room (surgical, N95, or equivalent). See COVID page for more information.
See our Policies page for a full list of policies related to Mysterium and the convention room.
Reminders of rules for inside con room (no food, drink etc)
See everyone in two weeks!
Rayne & m13
– Mysterium co-chairs