Greetings everyone!
We have less than a week before Mysterium begins, and we have a few reminders and a big announcement.
Reminders
If you haven't yet, be sure to register for Mysterium. You will not be able to access the social discussion groups on Zoom unless you do. We also recommend downloading Zoom and running a test call if you plan to join the discussions.
Also, we are still accepting last-minute What Would Atrus Build? submissions through tomorrow.
And don't forget to check out the Myst Documentary's Kickstarter!
Soundtracks
Jack Wall, composer of the Myst III and IV soundtracks and one of our many special guests, let us in on an exciting piece of news yesterday. Jack, in collaboration with Tim Larkin and Cyan, has re-released the soundtracks from Myst III, Myst IV, Uru, and Myst V through his record label.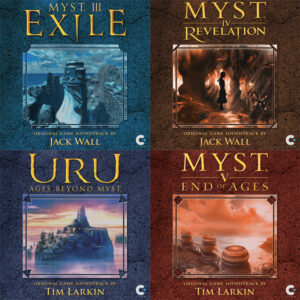 They are available for purchase digitally from iTunes, Amazon, and Google, and can be streamed on various services worldwide. Search for them under the following names:
Myst III: Exile (Original Game Soundtrack)
Myst IV: Revelation (Original Game Soundtrack)
Uru: Ages Beyond Myst (Original Game Soundtrack)
Myst V: End of Ages (Original Game Soundtrack)
A fan asked about re-releasing the albums at Mysterium last year, which helped to get that ball rolling.
We'll have more Mysterium news for you in a day or two. Until then, happy listening!
-The Mysterium Committee