Hello everyone
It's hard to write a blog post about a gaming convention right now. On the one hand, we want to get you information about the convention in a timely manner. On the other hand, we can't ignore what is happening in the world around us, as people of color and others around the country – and the world – protest police brutality and a long history of systemic injustice. We want to make it very clear that everyone involved in planning Mysterium supports the Black Lives Matter protests, and that there will never be space for racism or bigotry within the Mysterium community.
We plan to put our money where our mouths are at the end of this post, but first we want to give you an update on the rescheduled Mysterium 2021 convention:
Mysterium 2021
For the first time ever, we're giving you over 13 months to plan for Mysterium! The dates of the rescheduled Mysterium 2021 are July 16-18, at the same hotel (Westin Alexandria Old Town in Alexandria, VA) and same room rate ($100/night). See our updated Location page for more details.
Hotel Bookings
The hotel will be cancelling your 2020 booking in the next couple weeks, so you should not need to do anything. If this hasn't occurred by July 1, we will contact the hotel and update you with plenty of time before the cancellation date. We will post the link to book 2021 hotel rooms at our rate after our virtual Mysterium 2020 convention is over.
Registration
If you have already purchased a registration for Mysterium 2020, you will have the option of rolling it over to 2021, or requesting a refund. If you choose to roll over your registration, you will not be responsible for any price increases between now and the event. We will contact you soon with more details, using the email address you provided when you registered. For those of you who have not yet purchased a ticket, we will open Mysterium 2021 registration later this year.
Mysterium 2020
We have several interesting events planned for our virtual Mysterium, and we want to remind you that you can submit your own virtual event ideas here.
Calling All Costumers
One event we're excited about is what we're calling the Pass The Book Challenge, based on the popular Pass The Brush Challenge videos that have been circulating recently. If you have any Myst, Obduction, or other Cyan related costumes, this is your time to shine! All you have to do is record a pair of videos of yourself before and after putting on the costume, and we'll edit them together into a fun video to be played during Mysterium!
Don't stress about this. It's not about having the most complex or intricate costume, it's about having fun and showing off your creativity.
You can read all the details here!
T-Shirt Updates and Profit Donations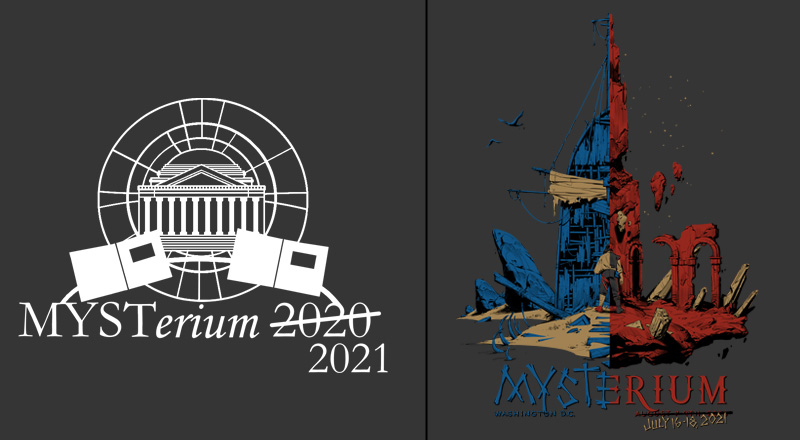 We have made some minor updates to the dates on the T-Shirt logos, and we have opened a new web store where you can order them! You can get all the info about our shirts and store on our Shirts Page. If you already bought a shirt with your registration, we will be in touch with you over email soon to discuss your options.
Now, we said at the start of this post that we'd be putting our money where our mouths are, and it's time to do just that. We will be donating $2 from every shirt sold through the end of August to Campaign Zero and to Gameheads.
Campaign Zero

is focused on research about police violence, how different policies affect it, and pushing for legislation to enact those policies and to help stop the violence entirely.

Gameheads

is an organization focused on helping to prepare low income youth and youth of color to enter and thrive in the technology and video game industries. It's certainly a different choice from Campaign Zero, but it felt appropriate coming from a convention about a video game series.
The donations will be evenly split between the two organizations. We'd love to give even more money, but realistically we only make $8-10 per shirt sold (depending on how many we sell), and the money we get from shirt sales is a significant part of how we fund the convention. If you would like to make your own donations, here are some other organizations to look at:
You local bail fund (find it on this and other lists)
We will have more for you soon. Until then, we hope you all stay safe and healthy.
-The Mysterium Committee