Greetings all!
We are excited to announce that registration and hotel reservations are now open! First, though, we want to show you the winning logo submissions for this year's t-shirts.
Logos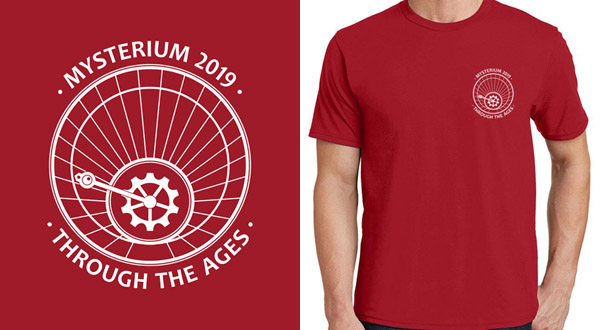 Above we have our lovely front logo, made by Xemylixa. Below we have our awesome back logo, by calumTraveler.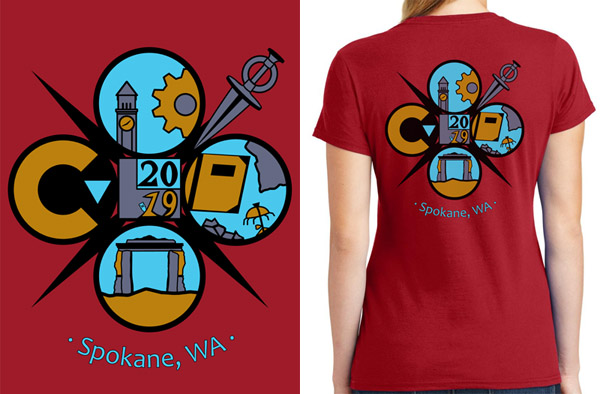 We love both of these logos, and we think they'll look beautiful on the shirts. You can get more information about the shirts on our T-Shirt page.
Hotels
This year, Mysterium will take place at the Ruby River Hotel in downtown Spokane. This hotel is in walking distance of the downtown core and Riverfront Park, and overlooks the Spokane River. We've secured a rate of $119/night for one-bed rooms, and $129/night for two-bed rooms (plus tax).
To book your room, and for more information about the hotel and surrounding area, please see our Location page.
Registration
In addition to hotel reservations, Mysterium registration is now open! From now until June 1st, you can purchase a weekend registration for $35, or a premium registration (weekend + shirt + coloring book) for $60. That's a $5 discount off of the individual items! After June 1st, the price will increase and shirts/books will not be available.
We are also introducing a space for personal pronouns on our badges this year. We've heard attendees ask for it over the past few years; in the interest of creating the most welcoming and enjoyable environment we can, we decided it was time to introduce the option. Adding pronouns to your badge will be 100% optional, but all staff badges will include them.
You can get all the details and purchase your registration at the Registration page.
We made the decision to raise registration prices by $10 this year, and we want to be fully transparent about why. As described in our FAQ, registration prices go towards the cost of renting the hotel space, equipment rentals, swag, and convention expenses. Unfortunately, the cost of hotel space, especially in popular cities, has been increasing quickly in recent years. In addition, this year we have invited quite a few special guests, and part of the registration increase will go towards offsetting their travel costs. Please get in touch with us if you have any questions about registration.
Reminders
Remember to submit any event/panel/activity ideas using our submissions form! Also, be sure to join in the Mass Mysteria city planning discussions on our discord – details here.
We expect to have a very exciting special guest announcement in a few weeks.
Until then,
-Taniith
Mysterium 2019 Con Chair