Mysterium will be held in Spokane, WA, the home of Cyan, Inc. It will take place June 30 through July 2, 2023.
Please Note: Unlike most years, Mysterium will end at 5pm on Sunday.
For details on this year's schedule, visit our schedule page.
Hotel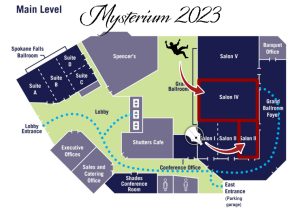 Our hotel will be the DoubleTree by Hilton Spokane City Center. The Mysterium rate will be $149/night, plus taxes.
Room options are one king or two queens. Our discounted rate covers the nights of Tuesday, June 27 – Thursday, July 6 inclusive. Note that if you need to cancel your room you must do so at least three days prior to the arrival date.
The deadline for booking a room at the Mysterium rate has passed, but there may still be rooms available at regular rates.
If you need to contact the hotel directly, such as to inform them of a late arrival, you can do so at 1-509-455-9600 or SPCC_DT_Hotel@hilton.com
Note: the hotel mentions a $7.95/day charge for in-room Wifi. If you'd like to avoid this fee you can sign up for a free Hilton Honors account at hilton.com. After signing up make sure you add your account number to your reservation.
Parking
Overnight Guests
For attendees staying the night, we have secured a discounted rate of $11/night for self-parking in the garage. If you booked at the Mysterium rate, charge parking to your room and you will automatically receive the discounted rate. You may not receive a discount if you do not book at the Mysterium rate.
Local attendees/day parking
For local attendees, the day parking rate will be $10. There is also ample street parking in walking distance of the hotel.
Local Area
While we encourage you to check around for restaurants and other offerings in Spokane, this map has a handful of options within walking distance of the hotel.

Transportation
Airport
Spokane International Airport (https://spokaneairports.net/) is served by most major US carriers. Taxis, Lyft, and Uber are available at the airport. Spokane Transit Authority bus route 60 (schedule available here) also travels between the airport and downtown. The bus runs every 30-60 minutes depending on the time of day. Fares are $2 for adults 19 and up, free for 18 and under. For more information, visit the STA website at https://www.spokanetransit.com. Depending on the time, the end of the line may be either the intersection of Lincoln & Sprague, or one stop further at the Plaza station. The stops are a 10-15 minute walk from the hotel. Lyft and Uber are also available.
Train
The Spokane Amtrak Station is served by Amtrak's Empire Builder, which travels between Chicago and Seattle daily. The station is approximately a 10 minute walk from the hotel. Lyft and Uber are also available.
Driving
The address of the hotel is 322 North Spokane Falls Court, Spokane, WA, 99201. See the Parking section above for details on parking during Mysterium.
Room and Ride Sharing
The best way to coordinate a ride or to share a hotel room is the #looking-for-people channel on our Discord server.
Bus
A charter bus will be available for those who need a ride to and from Cyan on Saturday. We will have 48 seats available on the bus. To reserve your seat, please login to Convention Master by following this link, go to the swag section and select Coach Bus to and from Cyan. A non-refundable fee of $15 will apply.
Please note the bus will be counted as a convention space, and our masking policy will remain in place while on the bus. Thank you!