Shorah All!
As promised in our last post, we're opening the next round of art submissions today. We also have some exciting news about special guests for Mysterium 2019. Let's get to it:
Art Submissions
First, a reminder that shirt logo submissions must be received by January 4th, 2019. That's just under 3 weeks from now!
We have two additional art categories opening up today. First is pins!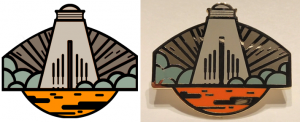 We created a trio of exclusive enamel pins for Mysterium 2018 (two of which are shown above). We're planning to create a new set of exclusive pins for 2019, and this time we're opening it up to anyone who wants to create a design! Simple pin art isn't that hard to do, and they look really great once they are manufactured. You can check out the details for pin art submissions here.
Second, we'll be making a coloring book for Mysterium this year!
Coloring books geared toward adults have become popular in recent years. They're a fun way to do something creative, and many people find them to be relaxing. This idea was tossed around the room at Mysterium 2018, and we decided it was time to make it happen. You can find the details for coloring page submissions here.
Unlike logos, the submission deadline for pin and coloring page submissions is February 15th, 2019.
Special Guests
Given that this will be the 20th annual Mysterium, and that it's in Spokane, we felt like we needed to do something extra special. So, we've been calling in favors and reaching out to as many special guests as we can find from across the Myst series. We'll be announcing them periodically over the next few months, but today we're very excited to showcase our first guest – Chuck Carter:
Or as we on the committee like to think of him:
Chuck, along with Robyn Miller, created the artwork that brought the worlds of Myst to life. After Myst, he worked on a number of other games, including a number of titles at Westwood Studios. He has created artwork for TV shows like Babylon 5, Crusade, and Mortal Kombat Krusades, as well as for motion rides like "Star Trek: The Experience" and Disney's "Mission to Mars".
We last saw Chuck at Mysterium 2016 (video here), where he told us all about his then-new indie studio Eagre Games, and a game he was working on called ZED.
ZED is the story of an aging artist, lost in regret and the haze of dementia. Inside the dreamscape of this creative mind come undone, players reassemble the artist's fragmented memories into a final, lasting legacy: a loving final gift to his unborn granddaughter.

Making its debut on PC (with optional VR support for Oculus Rift and HTC Vive), ZED is a surreal trip, with an unexpected narrative that unfolds across fanciful, fractured lands. Spanning regret, reconciliation and redemption, it's a bittersweet story that's both deeply personal, and undeniably universal.
Then, a month ago, Eagre announced that ZED would be published through a partnership with Cyan Ventures, a new publishing arm from Cyan. We were already planning to invite Chuck back, but it was a no-brainer with news like that!
We're working with Cyan and Eagre to hopefully have a VR rig set up in the convention room so that people can try out ZED in full VR.
You can find out more about ZED on over on its Steam page. Be sure to add it to your Steam wishlist while you're there!
We're all very excited to have Chuck back this year, and we think you'll enjoy having him at Mysterium, too. Stay tuned for more special guest announcements in early 2019!
Miscellaneous
We're wrapping up negotiations with our Spokane-area hotel, and plan to open up registration in early 2019. We expect event and panel submissions to open in mid-January. We will also have some more news for Mass Mysteria in the coming weeks.
As always, feel free to contact us if you have any questions or comments!
-Taniith
Mysterium 2019 Chair