Hello friends!
We're sorry it took so long, but we're here to tell you that registration and hotel booking for Mysterium 2023 are officially OPEN!
Before we jump in, a quick reminder for your travel/booking plans: Spokane years are action packed, so ending at mid-day on Sunday just doesn't cut it. Expect events to go until ~4pm on Sunday.
Registration
We're trialing a new (to us) registration system this year. It should make registering easier, and includes the ability for us to offer easier pre-orders on swag. You can also log back in at anytime and review or edit your registration and purchase information.
Please note that t-shirts and early-bird pricing for registration will be only be available through March 31st. Starting in April, shirt sales will close, and the price for registration will increase.
You can get all the details and register over on our registration page.
Hotel Rooms
Similarly, head over to our location page to get all the details about our hotel. Hotel prices in Spokane, and around the country, have gone way up in the last couple of years. We know $149/night is pricier than what we usually aim for, but believe us when we say that this is a good deal for the Spokane area. If you need to split costs by sharing a room, consider posting in the #looking-for-people channel on our Discord server.
Covid-19 Policy
We wish it were gone, but Covid is still with us. So, as with last year, we have a policy in place. You can read all the details here, but the short version is:
Full vaccination is required,

including

a bivalent booster, by June 23rd


Masking will be required and enforced in Mysterium spaces

No exceptions – we'll be streaming/recording most events for those who cannot attend

Cyan will have their own policy for our time at their headquarters (more on that soon)
Swag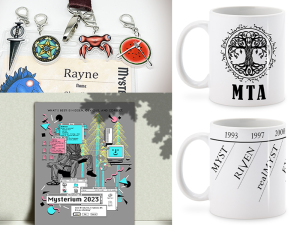 Oh, did we mention swag? That's right! We don't just have shirts this year, we also have mugs, prints, and lanyard charms available for pre-order. We're also cooking up some other goodies that might get added later, but for now you can check out all our available swag over here.
Accessibility Survey
We are always striving to make Mysterium as welcoming and accessible to as many people as possible. To that end, we're putting out an accessibility survey to solicit feedback and ideas. We want to know what you've seen/experienced that worked well, what worked poorly, services we should look into, and concerns you have about accessibility at Mysterium.
The survey is short, and all questions are optional. So if you have a few minutes, please consider sending us your thoughts! You can find the survey here.
Submissions Reminder
A quick reminder that submissions are still open for both events and pin designs. Be quick, though, because pin designs are due by February 12th!
December Prompt Winner
As with last month, we once again had our Discord community vote on their favorite entry for our December prompt, "endings". The winner was Grayson aka redwoodrroad, who submitted this animation of a scene from Riven:

Our January prompt, "beginnings", is still open until the end of the month. So be sure to drop by our Discord and submit your work!
That's all we have for now. Stay tuned for more news soon!
– Rayne & Taniith
Mysterium 2023 Co-Chairs