Designs
The t-shirt designs for Mysterium 20202021 feature some great artwork from our community:
The front design, created by Katherine "Squee" White, includes the Jefferson Memorial superimposed on the book vault from Revelation.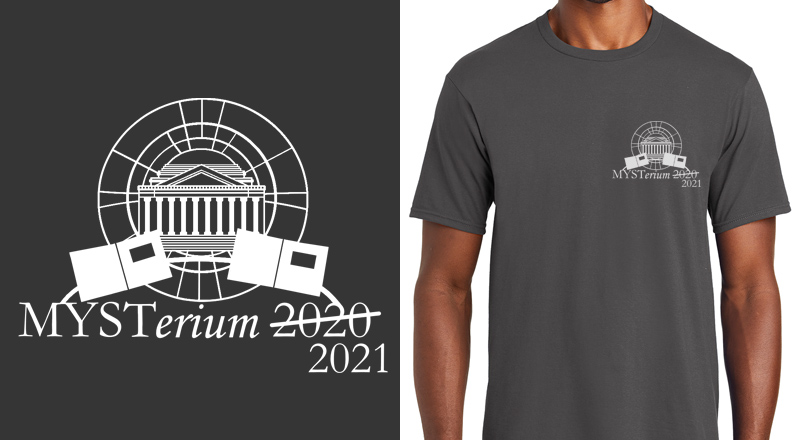 The back, designed by Claire "Shoom'lah" Hummel, depicts the duality of Haven and Spire.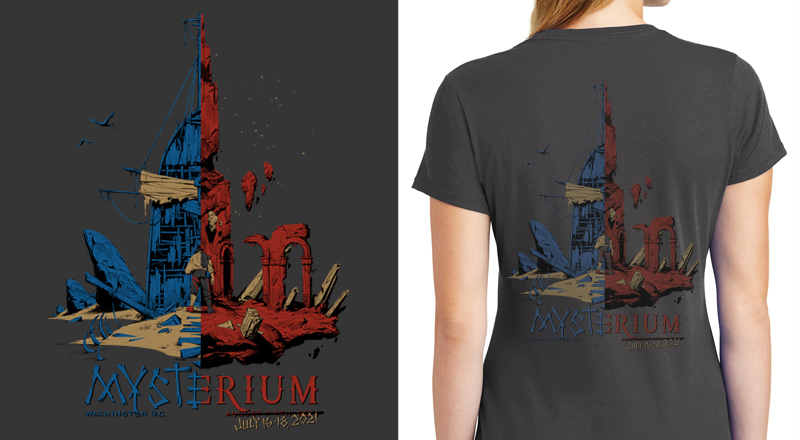 All shirts are 100% cotton. This year they will be charcoal gray, as shown above. Our shirts are printed using the discharge printing technique, giving the shirts a longer life and preventing large logos from feeling thick or uncomfortable by actually re-dying the fabric.
We will be using the same 4.5oz shirts that we used last year. They are very soft and comfortable, without being too thin. Please see below for sizing information.
Pre-Orders
T-shirt pre-orders are now closed!
Shirt orders will re-open for on-site pickup only when Mysterium 2021 registration opens. If you already ordered a shirt to be shipped through our online store, we expect to begin shipping them in early-to-mid September.
Donations
We will be donating $2 from every shirt sold through the end of August to Campaign Zero and to Gameheads.
Campaign Zero

is focused on research about police violence, how different policies affect it, and pushing for legislation to enact those policies and to help stop the violence entirely.

Gameheads

is an organization focused on helping to prepare low income youth and youth of color to enter and thrive in the technology and video game industries. It's certainly a different choice from Campaign Zero, but it felt appropriate coming from a convention about a video game series.
The donations will be evenly split between the two organizations. We'd love to give even more money, but realistically we only make $8-10 per shirt sold (depending on how many we sell), and the money we get from shirt sales is a significant part of how we fund the convention. If you would like to make your own donations, here are some other organizations to look at:
You local bail fund (find it on this and other lists)
Sizing
Our Unisex-cut shirts will be the Port & Company Fan Favorite Tee. You can find sizing info here.
Our Women's-cut shirts will be the Port & Company Ladies Fan Favorite Tee. You can find sizing info here.