Shorah!
The snow is melting, and we have some swag announcements to share with you!
Enamel Pins
We got a lot of fantastic pin submissions this year! We chose four designs to have available at Mysterium.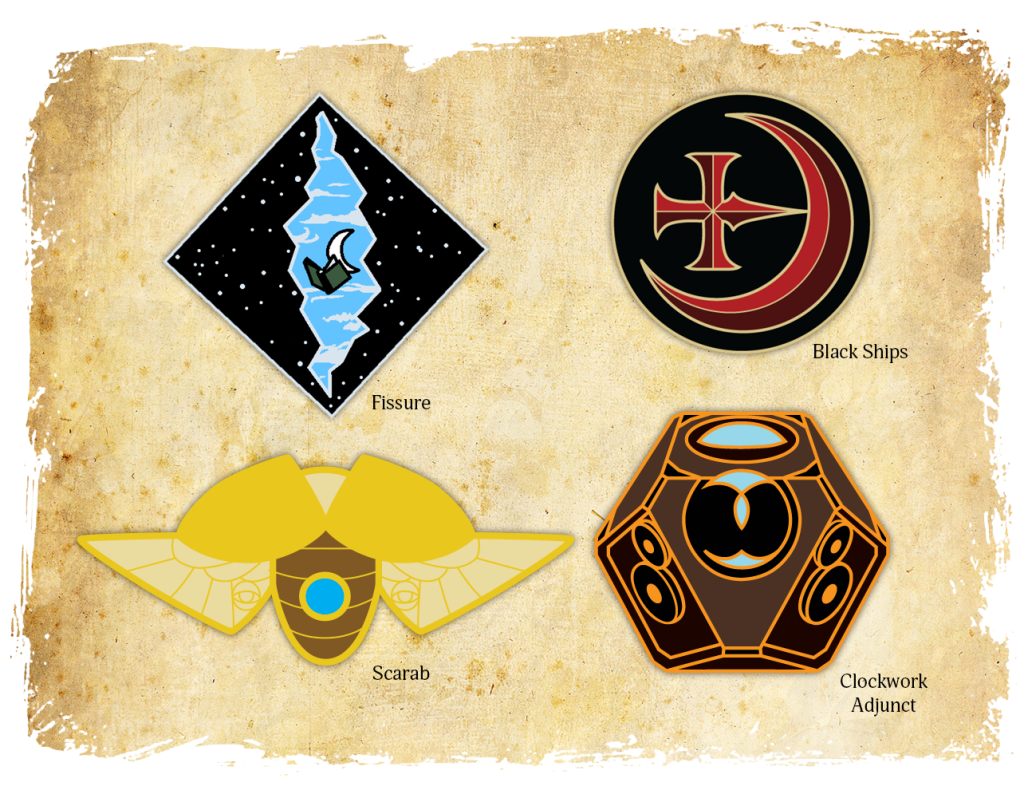 We all began this journey with the fissure! The Fissure design is by Katherine "Squeefruit" White. You can see her work here: https://archiveofourown.org/collections/Myst.
The Black Ships design is by Kelly "Rayne" Coston. Her website can be found here: Geek Girl Stuff
The Scarab design is by redwoodrroad. You can visit his website at https://redwoodrroad.tumblr.com/.
And the Clockwork Adjunct design is by Avior. You can see their other work at: https://twitter.com/avior_dev.
Buttons
We're rolling out some brand-new swag items this year! One of them is 1.25" buttons, featuring art submitted by Neil Darbyshire and Kefrith. The buttons will be sold as a set.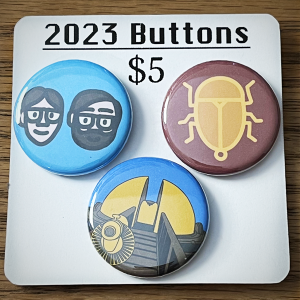 The dome design was submitted by Kevin F. "Kefrith" Smith. His website may be found here: http://facebook.com/KefrithMyst.
The Miller Brothers and Scarab designs were submitted by Neil Darbyshire. His website may be found here: https://www.instagram.com/robaku.and.bear/.
The pins and buttons are now available for pre-orders in our registration system. If you have already registered, you can log in to your account and add these items to your cart for purchase. We will have a limited number of both sets available at the swag table at Mysterium.
Social Buttons
Speaking of buttons! We will have social buttons available for attendees, staff, and guests again this year!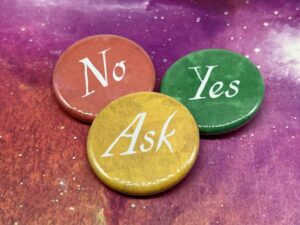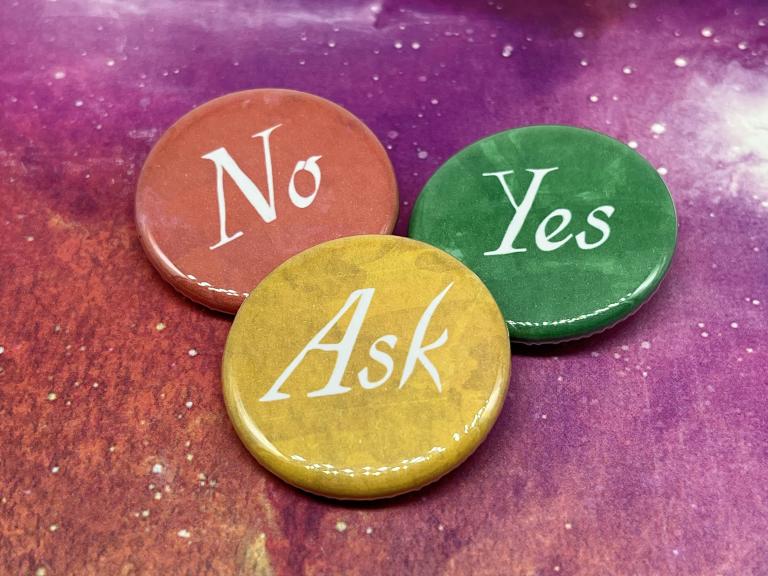 These darling little buttons measure 1.25" and the purpose of these is pretty straightforward. Wearing a green "yes" button implies that you are comfortable with people approaching you and engaging in conversation. A yellow "ask" button implies that you would prefer people to ask before engaging in conversation. And a red "no" button implies simply that you would like some space and to be left alone.
These buttons will be available at the registration desk at no cost. Just come up, snag one, and feel free to wear it on your badge, lanyard, or shirt. These are completely optional, just a nice easy way to communicate comfort level.
We do ask that everyone please be respectful with these. We also ask that the buttons be returned at the end of Mysterium so that we can sanitize and use them again next year. 
Stay warm, folks! We've got more announcements coming soon!
– Kelly "Rayne" Coston & Drea "m13"
Mysterium co-chairs