Shorah everyone!
We have a couple of quick things we want to share with you.
Writing and Art Table Submissions
We're thrilled to announce the return of the Table and submissions are now open! Spearheaded by our very own Annacat, the Table is an opportunity for folks to submit their fan work for display. Head over to the Submissions page for more information!
January Creative Prompt Winner
The Discord community has spoken! For "beginnings", this piece was submitted by Grayson aka redwoodrroad.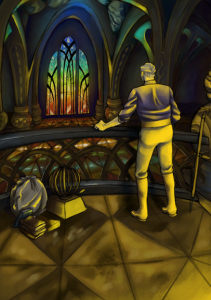 February's theme is "Heart" and submissions are still open until February 28th! Head over to our Discord server if you have a piece you would like to submit.
Covid-19 Updated Policy
We've modified the wording a bit to clarify what to expect during the Cyan visit on Saturday. The policy now states:
Importantly, a modified policy will be in effect for the Cyan visit on Saturday. We cannot guarantee that special guests and Cyan staff will be masked or vaccinated. We're looking into the feasibility of streaming content from the Cyan visit for anyone who cannot attend. If you have questions about Cyan's covid policy, please feel free to reach out to Jeff Lanctot at jeff@cyan.com.
Please note that Mysterium's Covid-19 policy remains unchanged. Please feel free to reach out to us if you have any questions!
That's all for now. We've got more goodies to announce soon!
-Kelly "Rayne" & Drea "m13"
Mysterium Co-chairs