Greetings all
Happy 4th of July to US-based fans! We have quite a bit of news for you today, including the release of this year's schedule. Let's get right to it:
Mysterium 2019 Schedule
At long last, we're happy to release our weekend schedule. You can check it out here.
We have a packed weekend for you, including a visit to Cyan on Saturday. Over the next month, we'll highlight a few of the more exciting events in additional blog posts. For the moment, though, we'd like to talk about how signatures from our special guests will work.
We have two blocks scheduled on Friday, as well as time while we're at Cyan, for folks to get signatures from our guests. Of course, you are also welcome to chat with them throughout the weekend if they aren't busy. Signatures are free, but we will not be providing photos or signature sheets for you. You are limited to having 3 items signed at any one visit, though you are welcome to get back in line. If you want to take a photo with one of the guests, you are welcome to take a quick selfie on your phone, provided it is out and ready to go. You may not ask other people to take a photo for you.
For signature slots at the hotel on Friday, we'll be handing out numbers at the registration desk and calling small groups in according to those numbers. This will help us keep the crowds down, and also lets you do other things while you wait, rather than just waiting in line.
Hotel Update
As you probably know, our hotel (Ruby River) is booked solid. We have managed to secure a handful of rooms at a nearby overflow hotel. If you'd like to book one of those rooms, you can find out more info at our location page. Also, if you have a room at the overflow hotel and have mobility issues that would make it hard to get to and from the Ruby River hotel, please contact us through the methods listed on that page. We'll try our best to help.
Next Guest – Kha'tie Postma
We have one last special guest to announce, and we're very excited about it.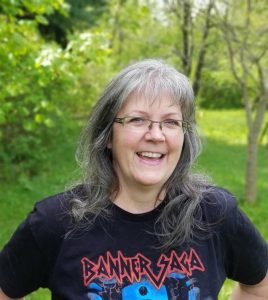 Kha'tie has been around the Myst community for a long time. In the early 2000s she was Ubisoft's Community Manager for the Myst games. After Myst V and the Uru sequels launched, she moved to other studios including Cartoon Network, Gazillion, Disruptor Beam, and Stoic, and worked on titles including Stargate, Star Trek, Marvel, and Game of Thrones. Since the Myst 25th Kickstarter, she has been working with Cyan as a community, social media, and marketing management consultant. She has also been helping us to liaise with Cyan this year, as well as helping us get in touch with many of our special guests and moderating several of our panels. We're happy to welcome Kha'tie back to Mysterium.
You can find out more about Kha'tie and our other special guests here.
Panel Topics and Other Submissions
We have quite a few panels on the schedule this year, and we know there are topics that you are dying to hear about. If you'd like to suggest some topics for our guests to discuss, we have a form here. We'll forward any suggestions to our panel moderators.
We also have a new submission option that just opened up. A number of folks have asked if they can display their Myst and Cyan-related writing/fiction/artwork at Mysterium this year. Thanks to our awesome staff-member Annacat, we're now taking submissions for just that! You don't even have to be attending. You can find out all the details here. Submissions must be received by July 30th.
We are also still accepting Mysterium Memories up until the convention.
That's all for today. Stay tuned for more news soon!
-Taniith
Mysterium 2019 Con Chair