Here are the answers to some frequently asked questions, and other important tips for your Mysterium Trip. This page will be updated periodically.
Will I be able to register at the door?
Please see this post for all on-site registration questions.
What are the details of the Special Guest autograph sessions?
There are two autograph sessions scheduled for Friday afternoon/evening, and there will be another opportunity during the visit to Cyan HQ on Saturday. Of course, you are also welcome to chat with them throughout the weekend if they aren't busy.
For each session at the hotel, we will be handing out numbers at the registration desk, and calling groups of 10 or so into the signature room at a time. This will help avoid crowds and let you do other things while you wait, rather than having to wait in a long line. We have a few rules/guidelines:
Signatures are free, but we will not be providing photos or signature sheets for you
You are limited to having 3 items signed per VIP in any one visit, though you are welcome to get back in line/get a new number
You are welcome to take a quick selfie with the VIPs on your phone, provided it is out and ready to go. You may not ask other people to take a photo for you
Will I be able to get Rand's signature while I'm at Cyan?
Yes, Rand and some of the other VIPs will be in the Cyan conference room for signatures. We are still working out logistics for line control for that session.
How will we be getting to Cyan HQ on Saturday?
As has traditionally been the case at Spokane Mysteria, we expect that the majority of people will get to Cyan by car. On Saturday morning we will gather in the con-room to help pair up non-drivers with drivers that have extra space. We also expect to rent a school bus to make sure there's enough room for everyone.
If you are driving, here is a small map of the parking available at Cyan: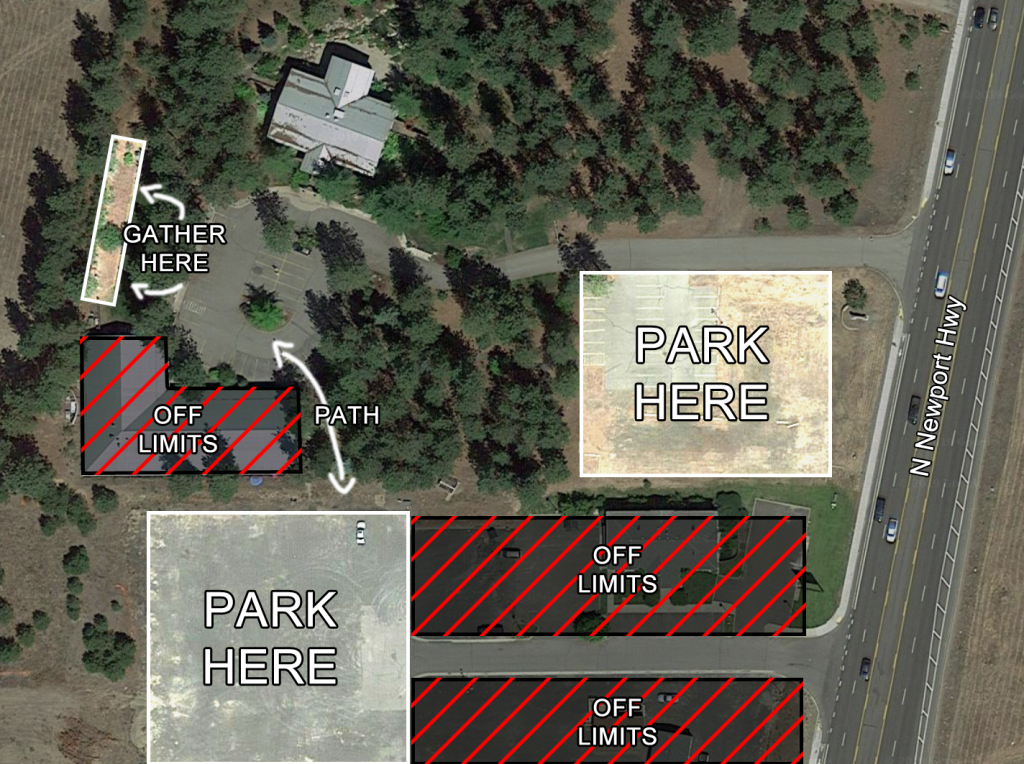 Cyan is located at 14617 N Newport Hwy, Mead, WA 99021. From the hotel, you will likely be coming from the south, with Cyan on your left. You should either park in their outer parking lot, or in the back of the large lot next door (shown on the map above). Do not park in the front section of the neighboring lot. The inner lot at Cyan is reserved for staff and anyone with mobility issues.
We will be starting the day on Cyan's lawn for an introduction by Rand. There is a path from the parking lot next door to Cyan's campus.
What kind of lunch will be available at Cyan on Saturday?
Cyan will be providing hot dogs, veggie dogs, chips/snacks, fruit, vegetables, and drinks. A fan with a cookie business will also be providing all manner of cookies for us!
If you have a food allergy, we recommend you bring your own food. Cyan has a small kitchen with a microwave downstairs that you are welcome to use.
When is the best time to wear a costume?
If you have a Myst or Cyan costume you'd like to show, you are welcome to wear it at any time during the weekend. However, we strongly recommend wearing them on Saturday when we visit Cyan. If we get enough cosplayers, we may even do a quick costume parade!
What should I be sure to bring to Mysterium?
Remember to know the climate! Spokane in August is typically hot, but moderately dry. Remember to bring clothing that you will be comfortable in when hanging around the hotel or outside. Most of Saturday's event at Cyan will be outdoors, so remember to plan accordingly.
Here is a non-exhaustive list of items you may want to pack:
Swimsuit (we usually have unofficial Thursday and Sunday night pool parties)
A light jacket (it can be chilly indoors because of AC)
Sunscreen, a hat, sunglasses, and bug repellant (we will be spending time outside at Cyan on Saturday)
Refillable water bottle
Items to have signed by our VIPs
Medications
Chargers for your electronics
Money, including cash, for food, shopping, and transit
Board or card games you might like to play during social times
Can I bring food into the con room?
While covered beverages are allowed, food is not permitted in the con room at any time. Our full policy can be viewed on our Policies page. If spills occur, please notify a committee member so we can respond appropriately.
Also, the hotel does not allow outside food in public spaces. If you bring food back to the hotel, please eat it in your hotel room.
Please always wash your hands and/or use hand sanitizer after you've eaten or if you plan on handling VR equipment, computers, board and card game pieces, or other items that other people in the con room will touch as well. We want all guests to have a safe and enjoyable time!