What weird contraption did Atrus think up this time?
A long-standing favorite of Mysterium attendees, What Would Atrus Build (WWAB) asks participants to "finish" one of "Atrus's projects", and then give a quick presentation on it. Normally we'd provide a pile of random junk, some tape, some hot glue, a theme, and a time limit. Then we'd ask you to form teams and build WWAB entries. Unfortunately, that won't work this year.
Instead, we're doing WWAB At Home. We'll provide a prompt and some rules, you provide the junk… or don't. You can build it, sketch it, 3D model it, make an interpretive dance of it – whatever you want! You'll have until August 2nd to create your entry, record a video describing your invention, and send it to us.
We'll compile the videos and show them throughout the weekend. The most creative creations and presentations will be announced by the Mysterium team on Sunday – we can't give out prizes this year, but we can give you bragging rights!
It doesn't need to be pretty, or even stay together any longer than needed to record your video. This is about fun and creativity, not about perfection.
Theme
The theme for this year is 'Surviving the plague/quarantine'. You can take that in whatever direction you want. Here are some random ideas the committee came up with (feel free to steal these and riff off of them, or come up with your own):
A device to sanitize deliveries
A drone that can get your takeout for you
A bubble/maintainer suit so you can go outside
A crystal viewer for team meetings, as a Zoom alternative
An automatic bread oven
Rules
All submissions must abide by our submissions policy
All submissions must be family friendly
All submissions must be received no later than August 2, 2020
Videos should be in one of these file formats: .mp4, .mov, .avi
Videos must not be shared publicly until after we share them during Mysterium
Videos should be 1-3 minutes, max
Submissions
You should upload your video to Dropbox, Google Drive, OneDrive, or another private file host from which you can share the uncompressed/unedited video files. Then, email a link to the files to art@mysterium.net, using the subject line "WWAB". Be sure to include the name you want listed on screen, the name of your invention, and a link to your website (if desired).
DO NOT upload the videos to Youtube or Facebook or any other video sharing site as a means of submitting them to us, as those sites will compress the video. We need the original video files.
That's it! Don't stress over this too much.
Examples
Here is an example sketch for the takeout food drone delivery idea (drawn by Kelly Coston). Your sketches don't even have to be this nice!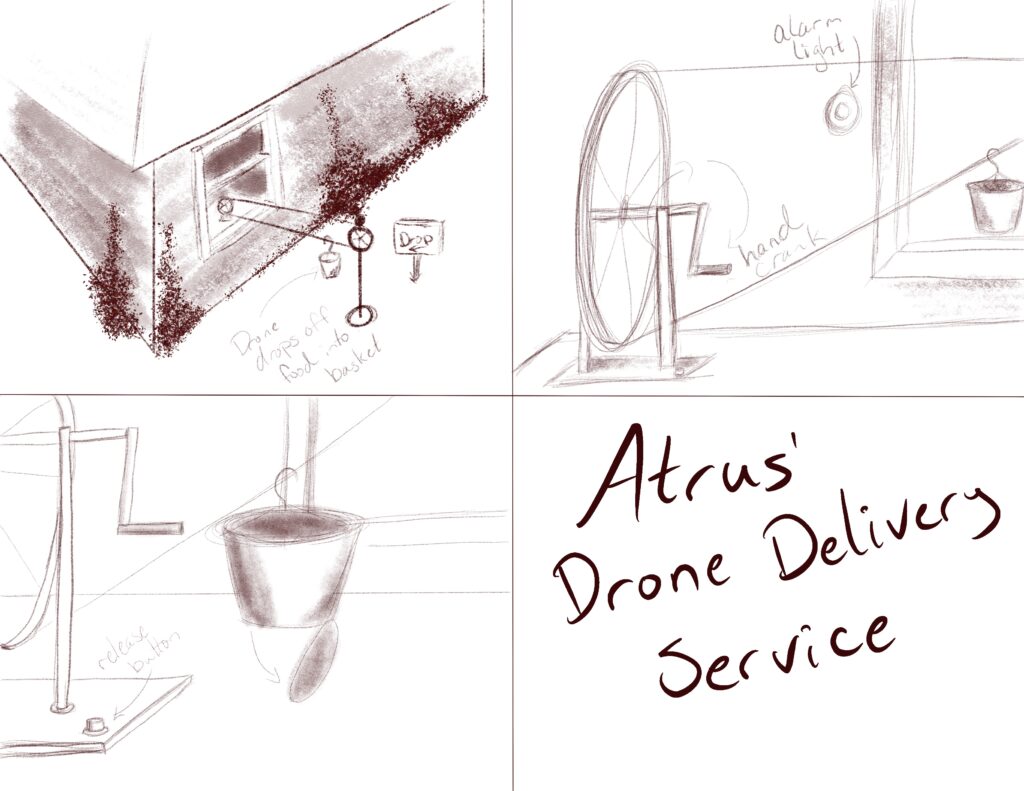 Here are some other examples from past Mysterium conventions: